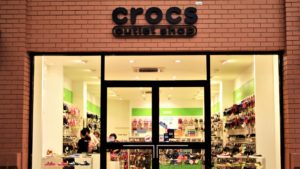 Crocs Are the World's Biggest Fashion Trend, So Buy CROX Stock
And when you do, you get a fashion stock that goes BOOM… not for a year or two… but over the course of decades.
Case-in-point: Nike and athletic apparel. The athletic apparel trend, which exploded in the 1990s on the back of Michael Jordan, has stuck for over 30 years. Nike stock has risen more than 11,000% since 1990.
More recently, there's Lululemon (NASDAQ:LULU) and athleisure. The athleisure trend, which exploded in the early 2010s, has stuck for the past 10 years. Lululemon stock has risen 1,700% over that stretch.
Big picture: fashion trends rarely stick. But when they do, they stick in a big way, and produce huge winners.
The reason to like Crocs is that the company is at the epicenter of an emerging fashion trend which will stick for the next few decades, and which implies an enormous sales and profit growth outlook for the footwear brand over the next 10+ years — a stretch in which CROX stock will explode higher like LULU and NKE stock have over the past 10 years.
The Emergence of "Ugly"
The emerging fashion trend I'm talking about is the "ugly" fashion trend — or, more specifically, a shift in fashion from form to function.
There's no mistaking that this "ugly" fashion trend has exploded over the past few years. Just do a Google Search on "ugly fashion". Every major fashion blog and magazine has covered the emergence and explosion of this fashion trend over the past three to five years.
But the more riveting part is the staying power of this trend. The "ugly" fashion trend finds its roots in 2014. It's 2020. And the trend is more alive than ever.
Talk about longevity.
This longevity implies that something bigger is at play here than just a fashion trend, and indeed, there is.
At the root of the "ugly" fashion wave is a secular, lifestyle pivot towards consumers caring more about functionality than form.
Just look at the way we work. In the 1990s, offices were filled with executives in $1,000 suits. Then along came Mark Zuckerberg and his hoodie. Now, the world's largest technology companies are run by guys in t-shirts and flip-flops.
Or look at the way we talk. "Good morning, sir, how are you" used to be a common greeting. Then along came the iPhone and text messages. Now, "What's up" is how many people answer the phone.