Customer demands change all the time with new market trends, and NoLo is no different. As people start looking for no- and low-alcohol alternatives to their traditional drinks, it is important to understand this gap in the market.
Here, we will explore how and why this trend is changing, the impact this has on the market, and how other brands are adapting to get the most out of NoLo.
The context of reducing alcohol
Drinking culture in the United Kingdom is well established with over 80% of adults claiming to drink alcohol. However, as people aim to improve their physical and psychological well-being, there has been decisive actions to reduce alcohol consumption. Between 2021 and 2022, there was a rise of 22% in predicted Dry January participants, with over 131,000 people took part in Dry January 2022, opening a gap in the market for more NoLo beverages.
NoLo is the conscious drinking trend which focuses on choosing non- or low-alcoholic alternatives. With one in four young people remaining teetotal, and the predicted number of participants for Dry January ever increasing, it is more important than ever to provide good quality alcohol alternatives.
The NoLo market
When Seedlip broke into the market with their first non-alcoholic spirit in 2015, we saw the creation of the NoLo trend. The first of its type, the company claim a 200% growth annually until 2018. This unexplored territory highlighted a gap in the market which once went unrecognised.
However, in 2018-19, NoLo drinks made up only 0.2% of all alcohol sales, with under 50% of adults having tried a NoLo drink. Yet, by 2020-21, the market had grown to over £200 million in supermarkets alone. This promises a year-on-year growth of NoLo consumption. A trend which companies are realising isn't leaving anytime soon.
In the 2021, the United Kingdom saw over 15% growth in the NoLo drinks market with health-conscious buyers opting for 0-1.2% alcohol choices over the traditional beers, wines, and spirits. Sainsbury's claimed a reported increase of over 90% in their NoLo drinks sales year-on-year, with Tesco reporting an increase of over 105%.
The public-focused health movement has caught the attention of many businesses, resulting in a market gap for low- and non-alcoholic beverages to arrive. As more people become sober-curious, it is important for businesses and brands to accommodate this new taste.
How brands are reacting
Brands such as Heineken brought out their first no-alcohol alternative to their traditional beer back in 2017. Since then, many other brands have produced their own non- or low-alcohol lines to match their pre-existing alcoholic beverages. Previous alcohol giants have turned to the NoLo trend, producing variations of their classic drinks to suit a larger market of people. With campaigns such as Heineken's drink driving awareness alongside Formula One, brands are using the NoLo trend to promote, not only healthier lifestyle choices, but drink safety.
Some brands create new lines of NoLo creations altogether with canned mocktails rising in popularity. Bars have already tapped into the mocktail revolution, offering slush syrup and flavours to create alcohol-free replications of their popular cocktail menus.
It is important as a business to offer these alternatives. Not only as a preference for the few but now also as an increasing drink trend. Finding replacements for alcohol flavours, including low-alcohol beers or replica cocktails can see a drive in sales growth.
The NoLo trend is rising and shows no signs of stopping. The drink's market has opened to a new alcohol-free selection. Not only are people looking for tasteful mocktails, but they also are in search for replications of their beloved alcohol-heavy drinks in a new, lighter, and healthier way. Whether people are looking to remove alcohol completely, or cut down on their weekly units, it is important that they are offered high quality products that rival the traditional, alcohol alternatives.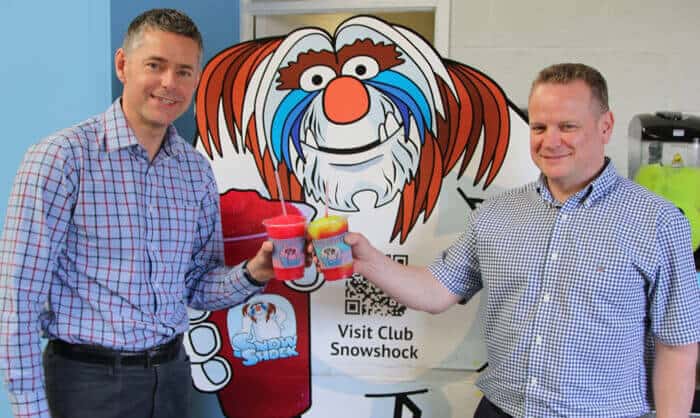 Peter Campbell (right) is owner of Snowshock